【Limited Offer】 Long-Term Stay Plan at Hotel S 
category :
Would you like to enjoy a casual, long-term stay?
Are you looking for a place to stay in Tokyo for an extended business trip?
In response to requests from our customers, we've introduced an extended stay plan at Hotel S that is a great value!
Guests can now stay in rooms that include a washing machine and microwave oven.
[30-Night Plan]
Double Room (17 – 21 sq. meters)    195,000 yen
Deluxe Twin Room (29 sq. meters)     270,000 yen
[14-Night Plan]
Double Room (17 – 21 sq. meters)    98,000 yen
Deluxe Twin Room (29 sq. meters)     140,000 yen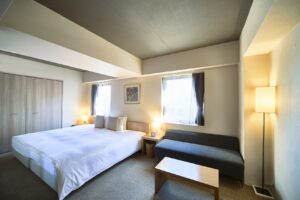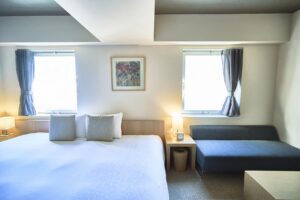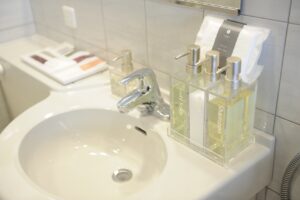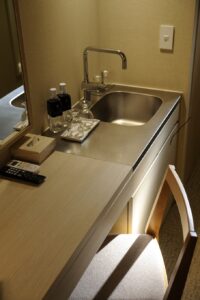 Room Accommodations
Washing machine / Laundry detergent / Towel hanger / Refrigerator / Microwave oven / Kettle / Dishes & Utensils / Hair dryer / Safe / TV / Wireless internet / Shampoo / Conditioner / Soap & Toiletries / Towels / Slippers / Amenities (provided once on the day of arrival) / Toothbrush / Cotton set / Comb / Skin care set / Coffee
Room Cleaning:  Once a week
Towel exchange and trash collection:  Twice a week
Dates of Sale:  March 8th – November 30th, 2021
Regarding Extension of Stays: According to room availability
Payment Method: Full payment at check-in (no refunds possible mid-stay)
*All prices listed are tax inclusive.
For any inquiries, contact:  
03-5771-2469 / info@hr-roppongi.jp
This campaign is listed on the Hotel S homepage only.
-Guests can receive tickets for 10 cups of coffee each month as a gift!
‐Lunch 10%off at Coconoma Season Dining!
-Usage of the 1F lounge is free of charge!
You can use the lounge to have meetings or wait for guests while enjoying coffee.
This offer is only available for a limited time!
Note:
– This plan may not be available based on room vacancy.
– This is a long-term hotel stay plan, not a rental agreement.
– The room cannot be used by anyone aside from the guest and may not be sublet or transferred to a third party.
– Inappropriate use of the room is prohibited. If such behavior is discovered during a stay, the stay will be terminated.
– We confirm credit card payments at check-in.
– Room charges are to be paid on monthly terms.
– This plan is not eligible for the Go-To Travel campaign.